YUCPC 25th Anniversary - 2006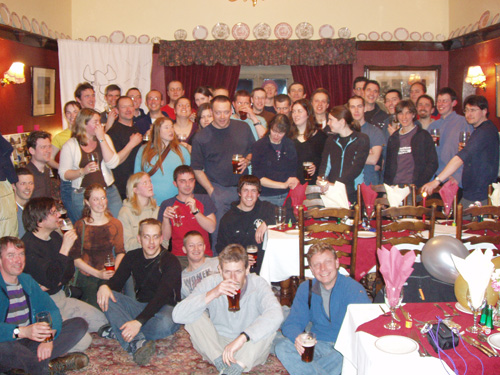 25 years is a long time by anyone's standards and with over 700 caving trips in the Yorkshire Dales, more than twenty expeditions worldwide, and generations trained in the skills of abseiling and rigging, we at the caving club thought it was a landmark worth celebrating!
To mark the occasion, members old and new descended on the village of Malham in the Yorkshire Dales for a weekend of reunion and merriment.
The weekend began in true caving club style with a number of activities in the surrounding Dales, an area which has long been the club's playground with its extensive network of caves and wealth of awesome scenery. Members took a trips down the club's adopted cave (the small but perfectly formed 'cherry tree hole'), a hike up the snow covered Pen-y-Ghent and erected a death defying Tyrolean traverse (or zip line) across the steep-sided gorge at Gordale Scar.
After all that activity (and adrenaline!) it could only be time for one thing: the pub. All were treated to a hearty meal in the fine surroundings of the Buck Inn at Malham, all washed down with lashings of beer.
The room was adorned with photo displays, depicting 25 years of trips, socials, expeditions and haircuts. Another highlight was the completion of the grand timeline, where members charted their time in the club and committee positions, a cause for amusement (and horror) as younger members added their birth dates...
So all in all a fantastic event, an opportunity to reunite and reminisce and a good excuse to enjoy a cheeky beverage (or ten). It was also an opportunity to revel in being a part of a successful and historic club, and with plans afoot for Ireland in the summer and more exploration in Montenegro soon after, there's no doubt there'll be even more to celebrate in another 25 years!